Annual Awards Gala
When:
November 15 2017
Details:

In 2017, IWF is proudly celebrating its 25th Anniversary of increasing the number of women who value free-markets and personal liberty. The 2017 Annual Awards Gala will certainly be a joyous occasion and a night to remember!
This year we are thrilled to honor Kellyanne Conway with our Barbara K. Olson Woman of Valor Award.
FOR MORE INFORMATION AND TO PURCHASE TICKETS CLICK HERE
Atlas Network: How to Make the Case for Liberty to Women
When:
November 8 2017
Details:

IWF President Carrie Lukas joins Atlas' Liberty Forum & Freedom Dinner for a Corner stone Talk on How to Make the Case for Liberty to Women.
To register and for more information click HERE.
Conservative Women: Fighting Feminism On Campuses and Beyond
When:
October 11 2017
Details:

Join GW Network of Enlightened Women as we host panelists Karin Agness Lips, Julie Gunlock, and Emily Jashinsky discussing why Modern Feminism and the Third Wave Feminist movement do not speak for all women. Each have had their fair share of Third Wave Feminism and will share their own stories of combating it.
Dress for Success Clothing Sale & Drive
When:
August 7 2017
Details:

There are usually two reasons why someone may not dress appropriately in an office setting. The first is they have never been taught how and the second is they cannot afford to. Independent Women's Forum is partnering with other organizations to bring you a professional clothing drive for women.
The cost of the event will allow you the opportunity to choose one new professional outfit (a top & bottom or dress) to take home. Blazers, jackets, shoes, and jewelry will cost extra.
After an initial networking reception, there will be a lecture on dressing to impress.
Please join us for a night of shopping, learning, and networking.
Sixth & I: Opposing Views: A Civil Conversation, Does Paid Family Leave Help or Hurt Women?
When:
August 7 2017
Details:

Aug 7, 2017 • 7:00 pm
The United States is the only advanced country in the world without a national paid family leave policy. According to a new study conducted by Pew Research Center, the vast majority of Americans are in favor of having such a policy. While there hasn't been legislation passed on this issue at the federal level, some states and companies have taken matters into their own hands: California, New Jersey, and Rhode Island provide paid family leave. More recently, policies have passed in New York and here at home in the District of Columbia. Tech companies including Facebook, Google, eBay, and Netflix, among others, have implemented their own paid leave policies.
While there's growing bi-partisan support for paid family leave, there's also significant disagreement over what policies should look like and questions about whether the federal government should even be involved in this issue, or if it should be left up to states or individual companies to voluntarily decide.
To better understand the debate around paid family leave—and to illustrate the value of discussion across differences—Emmy-Award winning broadcaster and 2017 Pulitzer finalist John Donvan will host a conversation between two people who hold opposing views on whether a federal paid family leave policy helps or hurts women.
Panelists include:
Alieza Durana is a senior policy analyst in the Better Life Lab at New America, where she provides research, writing, editorial, and programmatic support. Her work focuses on barriers to social and income equity, especially at the intersection of housing, education, and family policy.
Karin Agness Lips is the Founder and President of the Network of enlightened Women (NeW), a national organization for conservative university women. She is also a contributor to Forbes and a Senior Fellow with the Independent Women's Forum.
Donvan is also the host and moderator of Intelligence Squared U.S. Debates and the New York Times bestselling author of In a Different Key: The Story of Autism.
Working for Young Women: Changes and Challenges in Today's Workplace
When:
July 12 2017
Details:

Please join us for a rooftop reception and panel discussion on how young women can succeed in today's working world.
Progressives have largely dominated the conversation about politics and public policies with young people, particularly with young women. But it doesn't have to be that way: Conservative policy reforms would be a boon to young people, including young women.
The Independent Women's Forum and The Network of enlightened Women offers the Working for Young Women Agenda to help young Americans achieve their dreams by creating the conditions that promote a fairer, more dynamic society with greater opportunity and more freedom for people like them.
In this panel we will discuss:
College Costs and Student Loan Debt
Workplace Flexibility
Equal Pay and Combatting Discrimination
Childcare
Light bites and libations will be served.
MODERATOR:
PATRICE LEE ONWUKA is a Senior Policy Analyst at the Independent Women's Forum. Onwuka has worked in the advocacy and communications fields for more than a decade. Prior to joining IWF, Onwuka served as national spokeswoman and communications director at Generation Opportunity, and worked at The Philanthropy Roundtable and the Fund for American Studies in policy and media roles. She also held consulting roles as a speech writer for a United Nations spokesman and a manager for a student travel program to South Africa.
PANELISTS:
KARIN AGNESS LIPS is the Founder of the Network of enlightened Women (NeW), a national organization for conservative college women. She has been interviewed on national television and radio shows, such as C-SPAN's Washington Journal, CNN's American Morning, The NewsHour with Jim Lehrer, Fox's The Strategy Room and The Laura Ingraham Radio Show. She regularly speaks on college campuses. She has had editorials published in The Washington Post, The Washington Times and The Richmond-Times Dispatch, and has been featured in Politico, Time Magazine Online and More Magazine. One of her stories recently appeared in the book Chicken Soup for the Soul: Campus Chronicles.
CHRISTINE GOSS Christine is the founder and president of Pixton Public Relations (PPR), a full-service PR agency based in the Washington, DC area. In addition, Christine joined IWF as a communications strategist in January 2017. In her role, she manages national media placements for the organization's spokeswomen.
BETTINA INCLAN-AGEN is a seasoned communications and political strategist with a deep understanding of the nation's political and cultural landscape. She utilizes over a decade of knowledge at the intersection of media, government, politics and community relations to provide creative, politically savvy and smart insights to clients. She has leveraged her experience in senior roles in political campaigns, at the RNC, NRCC, on Capitol Hill, and in multiple political organizations to help clients navigate through crisis management and maximize strategic communications efforts in a host of issue areas.
JILLIAN MELCHOIR covers energy and environmental issues and government waste, fraud and abuse for the Independent Women's Forum. She is also political editor for Heat Street and the Tony Blankley Fellow for the Steamboat Institute.
Oops! Sorry We Were Wrong...How Public Health Guidance Often Harms the American Public
When:
June 29 2017
Details: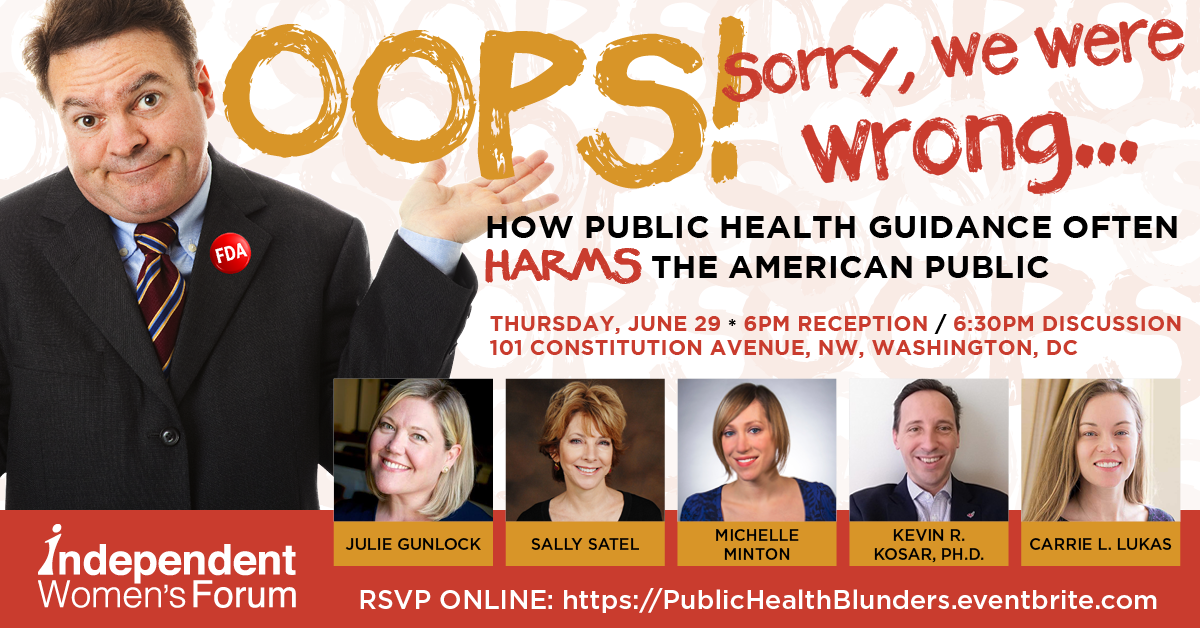 Government issued guidance on everything from butter, eggs, red meat, alcoholic beverages, salt, certain preservatives and color additives, and even on if pregnant women should eat fish have been proven false, reversed, or disregarded entirely by their former government champions. This has left Americans confused and distrustful. More importantly, it has robbed them of guiltlessly enjoying many delicious foods and prevented them from developing healthy habits that can extend their lifespans.This panel will examine the damage that has been done by the public health sector, the problems changing the culture at the FDA and what free market solutions can improve public health.
PANELISTS:
SALLY SATEL, M.D., practicing psychiatrist and lecturer at the Yale University School of Medicine, examines mental health policy as well as political trends in medicine. Her publications include PC, M.D.: How Political Correctness Is Corrupting Medicine (Basic Books, 2001); The Health Disparities Myth(AEI Press, 2006); When Altruism Isn't Enough: The Case for Compensating Organ Donors (AEI Press, 2009); and One Nation under Therapy (St. Martin's Press, 2005), coauthored with Christina Hoff Sommers. Her recent book, Brainwashed – The Seductive Appeal of Mindless Neuroscience (Basic, 2013) with Scott Lilienfeld, was a 2014 finalist for the Los Angeles Times Book Prize in Science.
MICHELLE MINTON is the Competitive Enterprise Institute's fellow specializing in consumer policy, covering regulatory issues that include gambling, alcohol, and food.
Minton has coauthored numerous studies, including topics like the effectiveness and unintended consequences of sin taxes and history of gambling regulation. Her analyses have been published and cited by nationally respected news outlets such as the New York Times, the Wall Street Journal and USA Today as well as industry blogs and publications. She regularly appears on news media to discuss the effects regulation has on individual's health and economic well-being and to propose more effective means of achieving public health goals while protecting the rights of individuals. In addition to her work at CEI, Minton is also a visiting fellow at the Maryland Public Policy Institute.
Ms. Minton holds a B.A. in Writing from the Johns Hopkins University and is currently working toward an M.S. in Applied Nutrition at the University of New England.
KEVIN KOSAE, PH.D is vice president of policy for the R Street Institute, where he oversees all of the institute's research across its commercial freedom, criminal justice, energy and environment, financial markets, governance, income mobility, innovation policy, insurance and public health policy programs.
Kevin joined R Street in October 2014 from the Congressional Research Service, where he served as analyst and research manager. Earlier in his career, he was lecturer in policy and public administration at New York University and Metropolitan College of New York.
Kevin is the author of three books: Failing Grades: The Federal Politics of Education, published in 2005; Whiskey: A Global History, published in 2010; and Moonshine: A Global History, published in 2017.
He has been a Presidential Management Fellow and won the Academy of Wine Communications' wine writer award.
Kevin received his doctorate in politics from New York University and his bachelor's from Ohio State University. He lives in Washington.
CARRIE LUKAS is the president of Independent Women's Forum. Lukas is the co-author of Liberty Is No War on Women, and the author of The Politically Incorrect Guide to Women, Sex, and Feminism, which was published by Regnery Publishing. She is also a contributor to National Review, Forbes.com, and Acculturated; and the vice president for policy and economics at Independent Women's Voice.
Lukas has written for The Wall Street Journal, The Washington Post, USA Today, and The New York Post. Carrie has testified before the House Ways and Means Subcommittee on Social Security.
Before joining IWF in 2003, she worked on Capitol Hill as the senior domestic policy analyst for the House Republican Policy Committee and at the Cato Institute. She is a graduate of Princeton University and Harvard's Kennedy School of Government. She lives with her husband and five children in Virginia.
MODERATOR:
JULIE GUNLOCK is a senior fellow at Independent Women's Forum and leads the organization's Culture of Alarmism Project. She is the author of the book From Cupcakes to Chemicals: How the Culture of Alarmism Makes Us Afraid of Everything and How to Fight Back.
AFF: Is single-payer health care inevitable?
When:
June 14 2017
Details:

American health care is in a crisis.
ObamaCare is unpopular. So is the Republican-sponsored American Health Care Act. Premiums are spiking, and a large number of counties throughout the country are left with only one insurer on the ObamaCare exchanges. Too many people can't afford their deductables. Too many people can't afford the cost of their medical bills.
Does all of that mean single-payer health care, or Medicare for All, is inevitable? Or are there other ways of reforming the American health care system to make sure that health care is more affordable and more available to more people?
Join America's Future Foundation-Chicago as we welcome Hadley Heath Manning, Director of Policy for Independent Women's Forum and Independent Women's Voice, to discuss the current and future state of American health care.
Admission is $10 and includes food and two drink tickets.
Wed, June 14, 2017
6:00 PM – 9:00 PM CDT
Elephant & Castle
111 West Adams Street
Chicago, IL 60603
womenLEAD Summit
When:
May 16 2017
Details:

Independent Women's Forum's annual womenLEAD Summit date has been set! On Tuesday, May 16th, join us in Washington, DC, for a day packed with dynamic panels, networking, and fun.
Questions? Please email Ashley Carter.
Empowering Young Women In Today's Working World
When:
April 24 2017
Details:

Join the Centennial Institute and the Independent Women's Forum for a discussion on empowering young women in today's working world. Meet, learn from, and be encouraged by accomplished women leaders from around our community.
If you're a young woman, 18-35, be sure to join us!
Date: Monday, April 24, 2017
Time: 4:00pm – 6:00pm
Location: Colorado Christian University
Leprino 107
180 S. Garrison St.
Lakewood, CO 80226
The Future is Now: School Choice and Other Reforms in 2017
When:
April 13 2017
Details: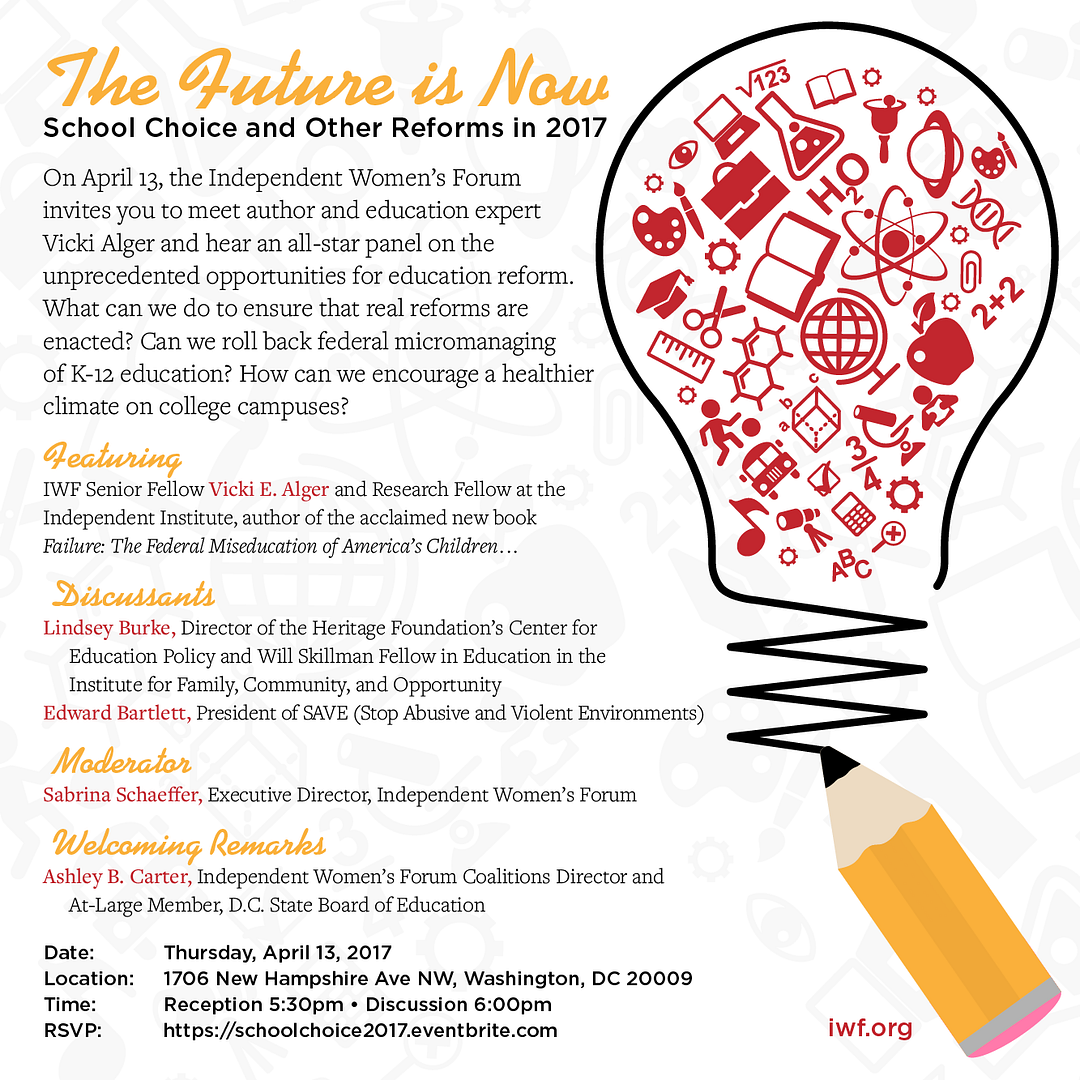 The Future is Now: School Choice and Other Reforms in 2017
On April 13, the Independent Women's Forum invites you to meet author and education expert Vicki Alger and hear an all-star panel on the current and unprecedented opportunities for education reform. What will real reform look like? Will headwinds from entrenched interests limit opportunities?
We all saw the outrage of teacher unions and their allies when a supporter of school choice became the new secretary of education. What can we do to ensure that real reforms are enacted? Can we roll back federal micromanaging of K-12 education? How can we encourage a healthier climate on college campuses?
AEI Shaping the Conversation
When:
April 4 2017
Details:

Tuesday, April 4, 2017 | 9:00–11:00 AM
AEI, Auditorium | 1789 Massachusetts Avenue, NW | Washington, DC 20036

Shaping the conversation: What new data show about Americans' attitudes toward and experiences with paid family leave.
Join AEI for an event exploring two new Pew Research Center surveys that provide nonpartisan data on Americans' views of and experiences with family and medical leave.
RSVP
Watch Live Online

To watch live online, click here on April 4 at 9:00 AM ET. Registration is not required.
Join the conversation on social media by following @AEI and @AEIecon on Twitter and Facebook.
Food and Fear: How to Find Facts in Today's Culture of Alarmism
When:
February 16 2017
Details:

Americans are getting mixed messages about food and nutrition. Increasingly, consumers are having trouble finding reliable information. An all-star panel sponsored by the Independent Women's Forum will address food fears and how to find fact- and science-based information in today's culture of alarmism.
Our February 16 panel will explore these questions:
• What are the origins of food fears?
• How have food fears altered consumer behaviors?
• What are good sources for food and nutrition information? Bad source?
• Why are women targeted for fear-based marketing strategies?
• What can the science, medical, agricultural, and academic communities do to help provide consumers better information?
You won't want to miss this discussion!

5:30pm Reception
6:00pm Panel
*Light bites and libations will be served.
Paid Leave in DC: Where Do We Go from Here?
When:
January 11 2017
Details:

The D.C. City Council has voted for the most extreme paid leave policy in the country, but some employers are saying that it could force them to go to other localities. Where do we go from here?
Join the Independent Women's Forum for a special panel to address what this policy will really mean for district workers, employers, and families.
Place: Americans for Tax Reform/ 722 12th St NW # 4, Washington, DC 20005
Time: January 11, Noon (Lunch from Chick-fil-A will be provided)
Panelists: * Carrie Lukas, Managing Director, Independent Women's Forum * Marc Freedman, Executive Director of Labor Policy, U.S. Chamber of Commerce * James Dinegar, President and CEO, Greater Washington Board of Trade * Scott Hoffman, Fourth-generation small business owner in Washington, D.C. * Arianne Bennett, Co-founder, Amsterdam Falafel Shop
Sabrina Schaeffer, Executive Director of IWF, will moderate.
Repeal Day Reception | Competitive Enterprise Institute
When:
December 5 2016
Details:

The Twenty-first Amendment, which repealed Prohibition, was ratified on December 5, 1933. Join us to celebrate that anniversary with a screening of the new short film I, Whiskey: The Human Spirit and a discussion of the threats to personal liberty from the neo-prohibitionists of today.
Competitive Enterprise Institute's
Repeal Day Reception
December 5, 2016
1310 L Street NW, 7th Floor
Washington, D.C. 20005
5:00pm – Reception begins
5:45pm – Screening of I, Whiskey: The Human Spirit
6:00pm – Panel discussion
Featured Panelists
Michelle Minton, Competitive Enterprise Institute
Julie Gunlock, Independent Women's Forum
Kevin Kosar, R Street Institute