*** MEDIA ADVISORY ***
MAD WOMEN DEBATE
THE BATTLE OF THE SEXES
THIS THURSDAY
September 19, 2013 | 6:00pm
(WASHINGTON, DC) — On Thursday, September 19th, National Review and the Independent Women's Forum present the long-awaited Mad Women Debate: The Battle of the Sexes. The series debuts with an all-star panel of intrepid women including Kirsten Powers, Christina Hoff Sommers, Judy Bachrach, and Sabrina Schaeffer. Moderator is National Review Editor-at-Large Jonah Goldberg.
The debate beings at 6:30pm ET (wine & cheese at 6:00pm ET) at the Decatur House on Lafayette Square in Washington, D.C. With 300 tickets reserved the event will focus on whether there is a war on women or a war on men?
MULT BOX AND ELECTRIC IN REAR OF ROOM
EVENT WILL BE STREAMING LIVE HERE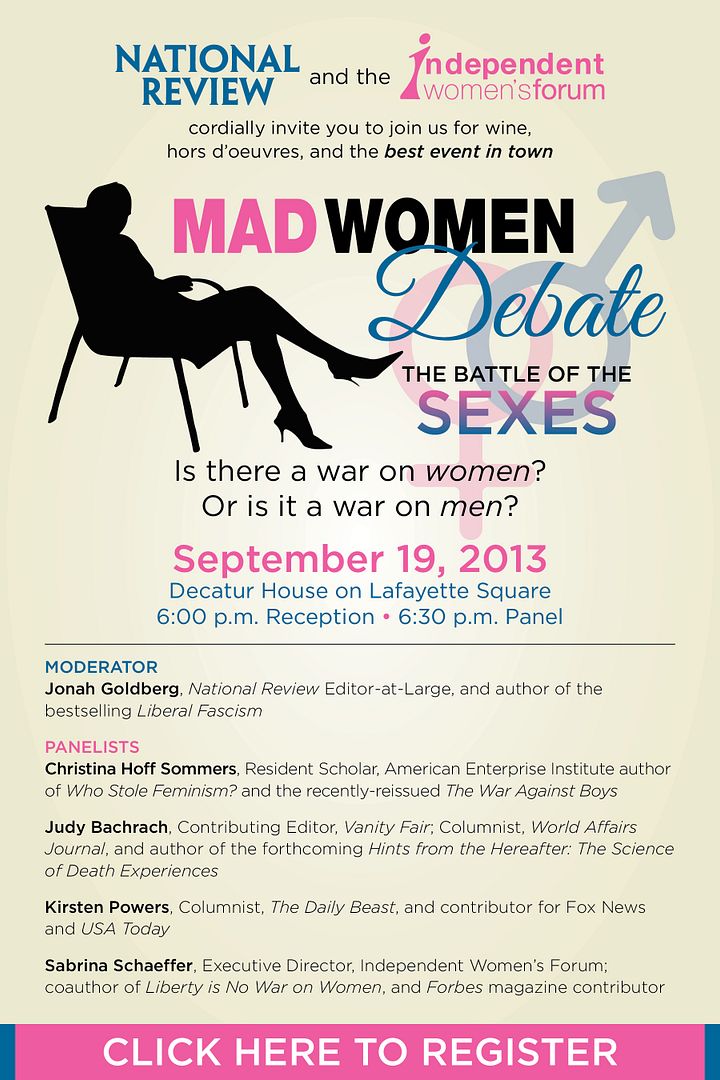 ###
Independent Women's Forum is a non-partisan, 501(c)(3) research and educational institution dedicated to building awareness of the ways that women benefit from limited government, personal liberty, and economic freedom, and by countering those who seek to ever expand government in the name of protecting women.