MEDIA ADVISORY

INDEPENDENT WOMEN'S FORUM TO TESTIFY AT SENATE BUDGET HEARING ON WHY THE "PAYCHECK FAIRNESS ACT" ISN'T FAIR AND WON'T CREATE EQUAL PAY
"Expanding Economic Opportunity for Women and Families"
(Washington, D.C.) – Tomorrow, May 13, 2014, Independent Women's Forum Executive Director Sabrina Schaeffer will testify before the United States Senate Committee on the Budget on "Expanding Economic Opportunity for Women and Families." Invited by Senator Jeff Sessions (R-AL), Budget Committee Ranking Member, Schaeffer will focus her testimony heavily on why legislation like the "Paycheck Fairness Act" won't create equal pay, just more government-largesse.
"Perpetuating the myth that women are a victim class harms women by making them feel weak, and it distracts them from learning effective ways to increase their earnings, expand their influence in the workplace, and pursue the lives they want. The goal of public policy ought to be to give women and men greater opportunity to pursue their vision of happiness. " – Sabrina Schaeffer
*Note: Schaeffers's testimony will be released at 7:00 a.m. ET Tuesday, May 13, 2013
Date: Tuesday, May 13, 2014
Time: 10:30 a.m. ET
Location: Dirksen Senate Office Building, Room SD-608
*Livestream webcast by the U.S. Senate committee on the Budget
Sabrina Schaeffer | Executive Director, Independent Women's Forum
Dr. Heather Boushey | Executive Director and Chief Economist, Washington Center for Equitable Growth | Senior Fellow, Center for American Progress
AnnMarie Duchon | Associate Director of Accommodation Services, University of Massachusetts Amherst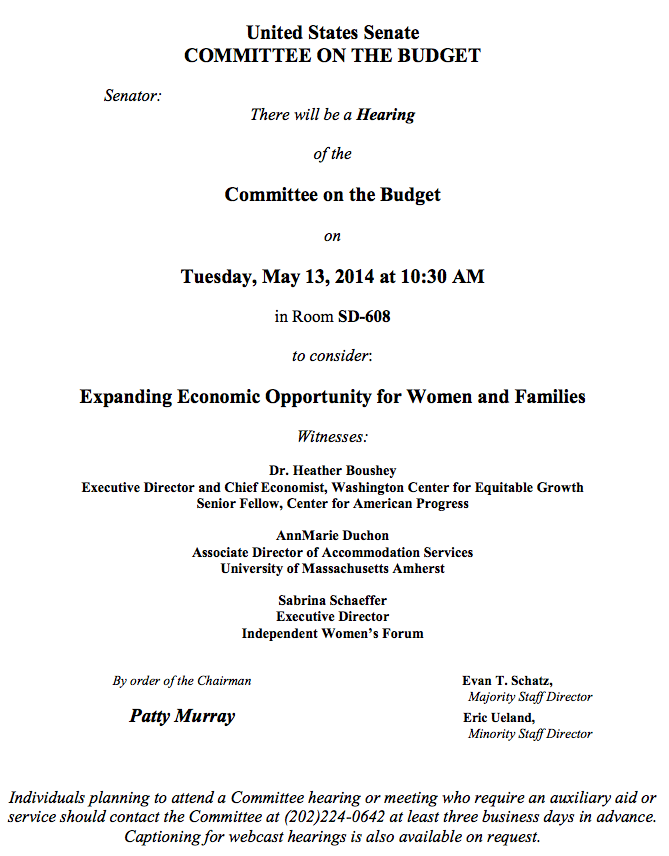 ********
www.iwf.org
Independent Women's Forum is a non-partisan, 501(c)(3) research and educational institution dedicated to expanding the conservative coalition, both by increasing the number of women who understand and value the benefits of limited government, personal liberty, and free markets, and by countering those who seek to ever expand government in the name of protecting women.
MEDIA CONTACT
Victoria Coley | Director of Communications
Independent Women's Forum | www.iwf.org
[email protected]