Contact: Victoria Coley
Email: [email protected]
Phone: 443.758.6077
*** WEDNESDAY, SEPTEMBER 17th ***
BOOK LAUNCH PARTY & DISCUSSION
LEAN TOGETHER
An Agenda For Smarter Government, Stronger Communities, And More Opportunity For Women
---
WEDNESDAY
September 17, 2014 | 6:00pm Registration | 6:30pm Panel | Reception to follow
3 West Club | 3 West 51st Street, New York, NY 10019
RSVP HERE
---
(WASHINGTON, DC) — Wednesday, September 17th, the Independent Women's Forum (IWF) introduces its new book LEAN TOGETHER: An Agenda For Smarter Government, Stronger Communities, And More Opportunity For Women (IWF Press; September 1, 2014; Paperback $10.00) at its New York City book release party and discussion held at the 3 West Club (3 West 51st Street, New York, NY 10019) at 6:00pm ET.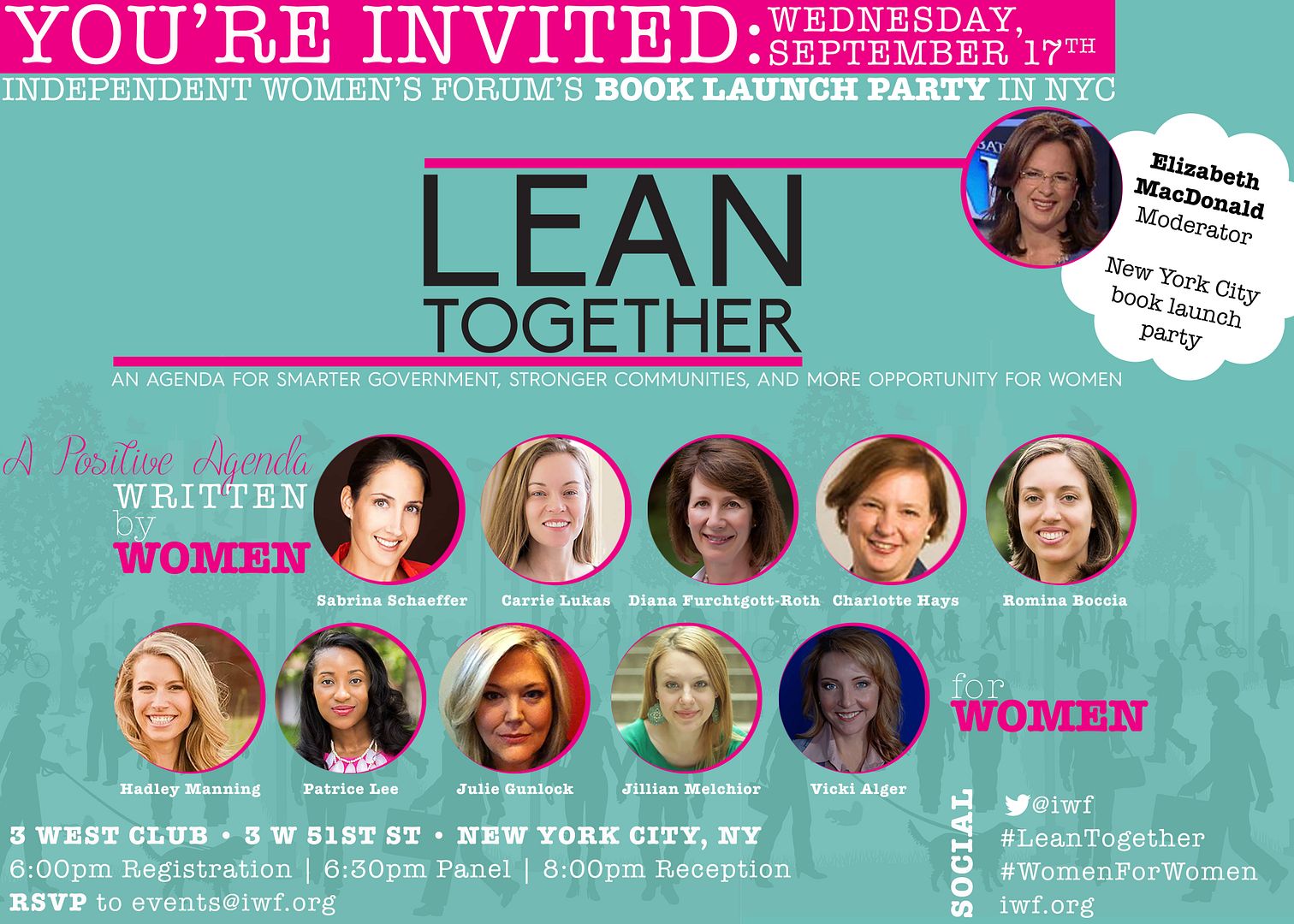 For too long progressives in Washington have put forth a picture of America in which government is the solution to every problem. Where a nanny state dictates our children's lunches, provides one-size-fits-all health care, controls our education, and even determines what kinds of light bulbs we use. We've not only lost sight of what a healthy society looks like, but also forgotten that government is not the only – or event the best – solution to society's ills.
LEAN TOGETHER is 12 chapters, all written by female authors. It presents a better vision for America: smaller government, stronger communities, a vibrant economy, and more opportunity for women and men alike. It presents a vision of America in which limited government, virtue, and self-improvement are re-imagined and it offers concrete policy prescriptions that will rein in the progressive state, streamline government, and strengthen our economy.
"Lean Together attempts to bring to life what happens when government expands. Inevitably government ends up squeezing other aspects of life out of the picture," said LEAN TOGETHER editor and contributing author Carrie Lukas. "When we think about the problems facing the country today, it isn't just that we have too much government, it's that we have too little of other important ingredients in society: We have too few small businesses and companies creating jobs and opportunities for people; we have too few community organizations helping people in need and encouraging people to get involved in making their neighborhoods and therefore our country better; we have too few strong families that are able to offer the people within them, and around them, support."
Lukas adds, "The IWF doesn't believe in a go-it-alone society. That's why Lean Together calls upon Americans – women and men alike – to join in making changes to ensure we can create the kinds of supportive, thriving American communities that we all want."
The panel includes LEAN TOGETHER contributing authors. Moderator is Fox Business Network's Elizabeth MacDonald.
DATE: Wednesday, September 17

TIME: 6:30 p.m. ET panel + Q&A, Reception to follow

LOCATION: 3 West Club | 3 West 51st Street
MODERATOR

Elizabeth MacDonald • An award-winning journalist, MacDonald joined FOX Business Network (FBN) in September 2007. Prior to joining FBN, MacDonald was a senior editor at Forbes Magazine, where she covered stock market and earnings news and created "The World's 100 Most Powerful Women" annual list. Before Forbes, she covered stock market, earnings and accounting abuses for The Wall Street Journal's Money & Investing section and was a financial editor for Worth magazine and covered the IRS and taxes for Money Magazine.
PANELISTS | LEAN TOGETHER Contributing Authors
Carrie Lukas [editor] • Managing director of the Independent Women's Forum. She is the co-author of Liberty Is No War on Women, author of The Politically Incorrect Guide to Women, Sex, and Feminism, and a contributor to Forbes.com.
Sabrina Schaeffer • Executive director of the Independent Women's Forum. Previously she was managing partner of Evolving Strategies. She is the co-author of Liberty Is No War on Women, and a contributor to Forbes.com, The Hill, and Ricochet and a regular panelist on the Fox New Channel's "Forbes on Fox" every week.
Diana Furchtgott-Roth • Former chief economist of the U.S. Department of Labor, is a senior fellow and director of Economics21 at the Manhattan Institute for Policy Research. She served as chief of staff of President George W. Bush's Council of Economic Advisers. She is the author of Women's Figures: An Illustrated Guide to the Economic Progress of Women in America and a columnist for MarketWatch.com.
Charlotte Hays • Senior editor and director of cultural programs at the Independent Women's Forum. She first joined the IWF in 1999 as editor of The Women's Quarterly. Her work has appeared in the Wall Street Journal, New York Magazine, the Washington Post's "Book World," and the Weekly Standard. Charlotte is also a coauthor of three humorous books on southern culture.
Romina Boccia • Grover M. Hermann Fellow in Federal Budgetary Affairs at the Heritage Foundation. Before working at Heritage, she was a policy analyst at the Independent Women's Forum.
Hadley Heath Manning • Director of health policy at the Independent Women's Forum. She has been a National Review Institute Washington Fellow, and is a contributor to Doublethink Magazine and Red Alert Politics.

Patrice Lee • Senior fellow at the Independent Women's Forum and Director of Outreach at Generation Opportunity where she works to promote economic opportunity for Millennials.

Julie Gunlock • Director of the Culture of Alarmism Project at the Independent Women's Forum and the author of From Chemicals to Cupcakes: How the Culture of Alarmism Makes Us Afraid of Everything and How to Fight Back.

Jillian Melchior • Senior fellow at the Independent Women's Forum and covers energy and environmental issues. She also writes for National Review as a Thomas L. Rhodes Fellow for the Franklin Center for Government and Public Integrity.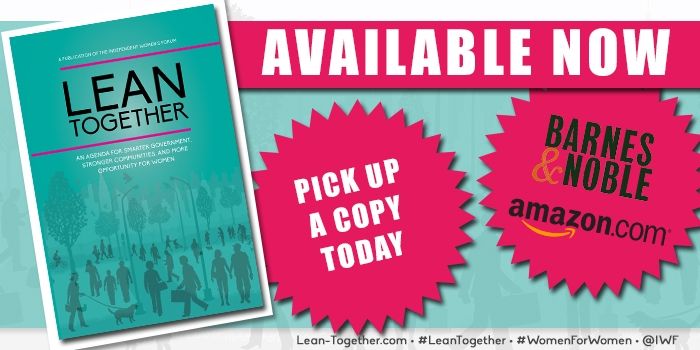 ********
www.iwf.org
Independent Women's Forum is a non-partisan, 501(c)(3) research and educational institution dedicated to expanding the conservative coalition, both by increasing the number of women who understand and value the benefits of limited government, personal liberty, and free markets, and by countering those who seek to ever expand government in the name of protecting women.
MEDIA CONTACT
Victoria Coley | Director of Communications
Independent Women's Forum | www.iwf.org
[email protected]