Hillary Clinton has long been a champion of equal pay for women—just not for the women who work for her.
We at IWF have debunked the 77-cent wage gap, which looks very different if you factor in women's choices. However, we overlooked one place where an even more severe form of that wage gap seems to have flourished: Hillary Clinton's Senate offices.
Actually, Ms. Clinton seems to have paid her female senate staffers only 72 cents on the dollar, according to an analysis by the Free Beacon:
During those years, the median annual salary for a woman working in Clinton's office was $15,708.38 less than the median salary for a man, according to the analysis of data compiled from official Senate expenditure reports.
The analysis compiled the annual salaries paid to staffers for an entire fiscal year of work from the years 2002 to 2008. Salaries of employees who were not part of Clinton's office for a full fiscal year were not included. Because the Senate fiscal year extends from Oct. 1 to Sept. 30, Clinton's first year in the Senate, which began on Jan. 3, 2001, was also not included in the analysis.
The salaries speak for themselves. The data shows that women in her office were paid 72 cents for every dollar paid to men.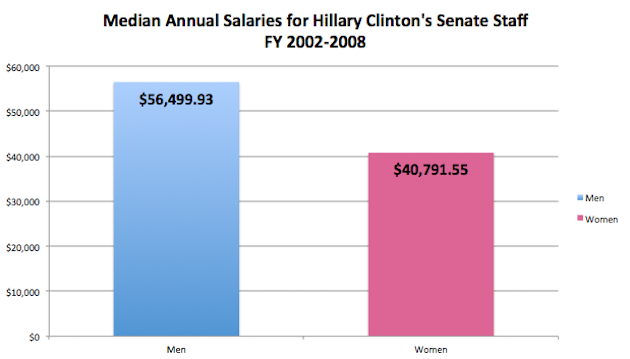 Graph: The Free Beacon
In some years, female staffers paid even more dearly for the honor of working for a champion for women:
In other years the results were far worse—in 2006, women earned 65 cents for each dollar men earned, and in 2008 it was 63 cents to women for each dollar to men.
The White House, where women are paid 15 percent lower than male staffers, was caught in a similar cheapskate hypocrisy.
We don't know what factors went into the lower pay for women in Ms. Clinton's senate offices, but we can guess that she won't receive less than any male speakers at a paid engagement tomorrow at the Lead On Silicon Valley Conference for Women.