EVENT ADVISORY
FOR IMMEDIATE RELEASE
March 3, 2015
CONTACT
Celia Meyer: [email protected]
Victoria Coley: [email protected]

THE FUTURE OF MARRIAGE
DOES IT HAVE ONE?
What Are The Ramifications if it Disappears?
THURSDAY
March 5, 2015 | 5:30pm Reception | 6:30pm Panel Begins
(WASHINGTON, DC) — On Thursday, March 5, the Independent Women's Forum (IWF) hosts I Do…I Don't: The Future of Marriage panel discussion with Isabel Sawhill, Kay Hymowitz, Laura Kipnis and W. Bradford Wilcox in Washington, D.C.
Family structures have changed dramatically in recent decades. Declining marriage rates, the growth of cohabitation, and increasing numbers of young Americans purposefully forgoing marriage have profound impacts on our culture as well as our economy. IWF's panel will address the impact of the decline in marriage, and if there is anything that can and should be done to save it.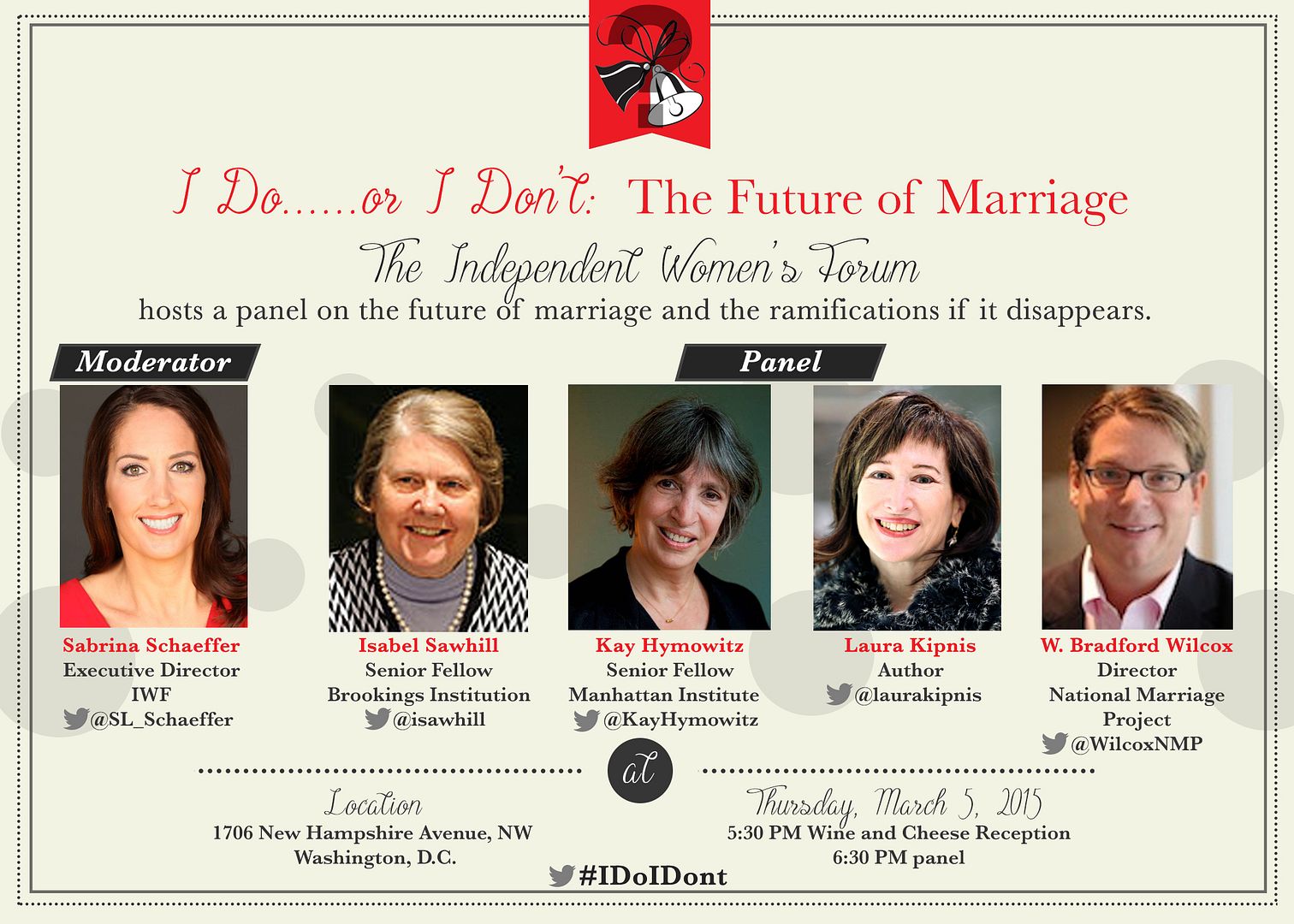 MODERATOR
Sabrina Schaeffer, Executive Director, The Independent Women's Forum
PANELISTS
Isabel V. Sawhill, whose latest book is Generation Unbound: Drifting into Sex and Parenthood without Marriage, is co-director of the Center on Children and Families at the Brookings Institution
Kay S. Hymowitz, whose four books on the family include Marriage and Caste in America: Separate and Unequal Families in a Post-Marital Age, is the William E. Simon Fellow at the Manhattan Institute
Laura Kipnis is a professor at Northwestern University and a cultural critic who has written extensively on gender, sexual politics and pornography and is author of Against Love: A Polemic
W. Bradford Wilcox is Director of the National Marriage Project at the University of Virginia, an associate professor of sociology at the university and coauthor of Gender and Parenthood: Biological and Social Science Perspectives
DATE: Thursday, March 5
TIME: 5:30 p.m. ET reception, 6:30 p.m. ET panel + Q&A
LOCATION: 1706 New Hampshire Avenue, NW, Washington, D.C.
********
www.iwf.org
MEDIA CONTACT
Celia Meyer | Communications Associate
c: 248.885.1878 | [email protected]
Victoria Coley | Director of Communications
c: 443.758.6077 | [email protected]