WASHINGTON, DC – Cosmopolitan Magazine, an international fashion magazine for women, featured Lean Together: An Agenda for Smarter Government, Stronger Communities, and More Opportunity for Women, a publication of the Independent Women's Forum (IWF), among its top 20 political books every woman should read. Released in an article "20 Political Books Every Woman Should Read," the must-read list—which included books written by Senator Kirsten Gillibrand, Melissa Harris-Perry, Lilly Ledbetter, and Peggy Noonan–was compiled by asking political consultants on both sides of the aisle for a list of "great political books" to read in the lead-up to the presidential election.
"Conservative leaders have their own vision for a better government and are recruiting women to actively engage in making it a reality," writes Cosmopolitan's Robin Marty. "In [Lean Together], the team of female policy experts from the Independent Women's Forum explain how cutting taxes, promoting school choice, and providing more private health care and education options can lead to more opportunities for women and their families to thrive."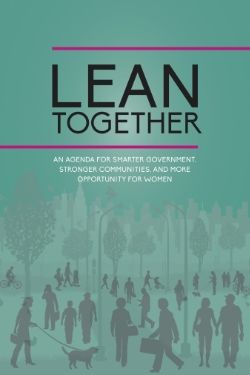 Lean Together, published September 1, 2014, consists of 12 chapters, all written by female authors. It lays out a positive agenda of policy initiatives to help create more opportunity and thriving American communities.
IWF's executive director Sabrina Schaeffer notes: "IWF strives to reach women who may not already be familiar with our policy ideas but who want to learn more about the 'wage gap' or food regulations or expanding educational freedom in a way that is non-threatening and solution-oriented. Lean Together is a first step in offering concrete alternatives to the big-government policies so often prescribed by women's groups. And we're very pleased to be included in this prestigious list."
IWF recognizes that for too long progressives in Washington have put forth a picture of America in which government is the solution to every problem, where a nanny state dictates our children's lunches, provides one-size-fits-all health care, controls our education, and even determines what kinds of light bulbs we use. In Lean Together, IWF offers an alternative vision of empowering individuals and strengthening communities to reawaken the American dream.
For more information visit Lean-Together.com.
•••••
Independent Women's Forum works to improve the lives of Americans by increasing the number of women who value free-markets and personal liberty.
MEDIA CONTACTS
Celia Meyer
Communications Associate
248.885.1878 | [email protected]
Victoria Coley
Director of Communications
443.758.6077 | [email protected]