presented by

(WASHINGTON, DC) — On Thursday, February 16th, the Independent Women's Forum, Washington University's Global Health Center, and the Monsanto Company will host a must-attend panel discussion on Food and Fear: How to Find Facts in Today's Culture of Alarmism. The event will be held in St. Louis, Missouri at Washington University's Danforth Campus.
Americans continue to get mixed messages about food and nutrition. Consumers are increasingly having trouble finding reliable information. The all-star panel will address food fears and how to sift through the alarmism to find science-based information to complex nutrition and agriculture issues.
Panelists will tackle the following questions: What are the origins of food fears? How have food fears altered consumer behaviors? Why are women targeted for fear-based marketing strategies? What can the science, medical, agricultural, and academic communities to do help provide consumers better information?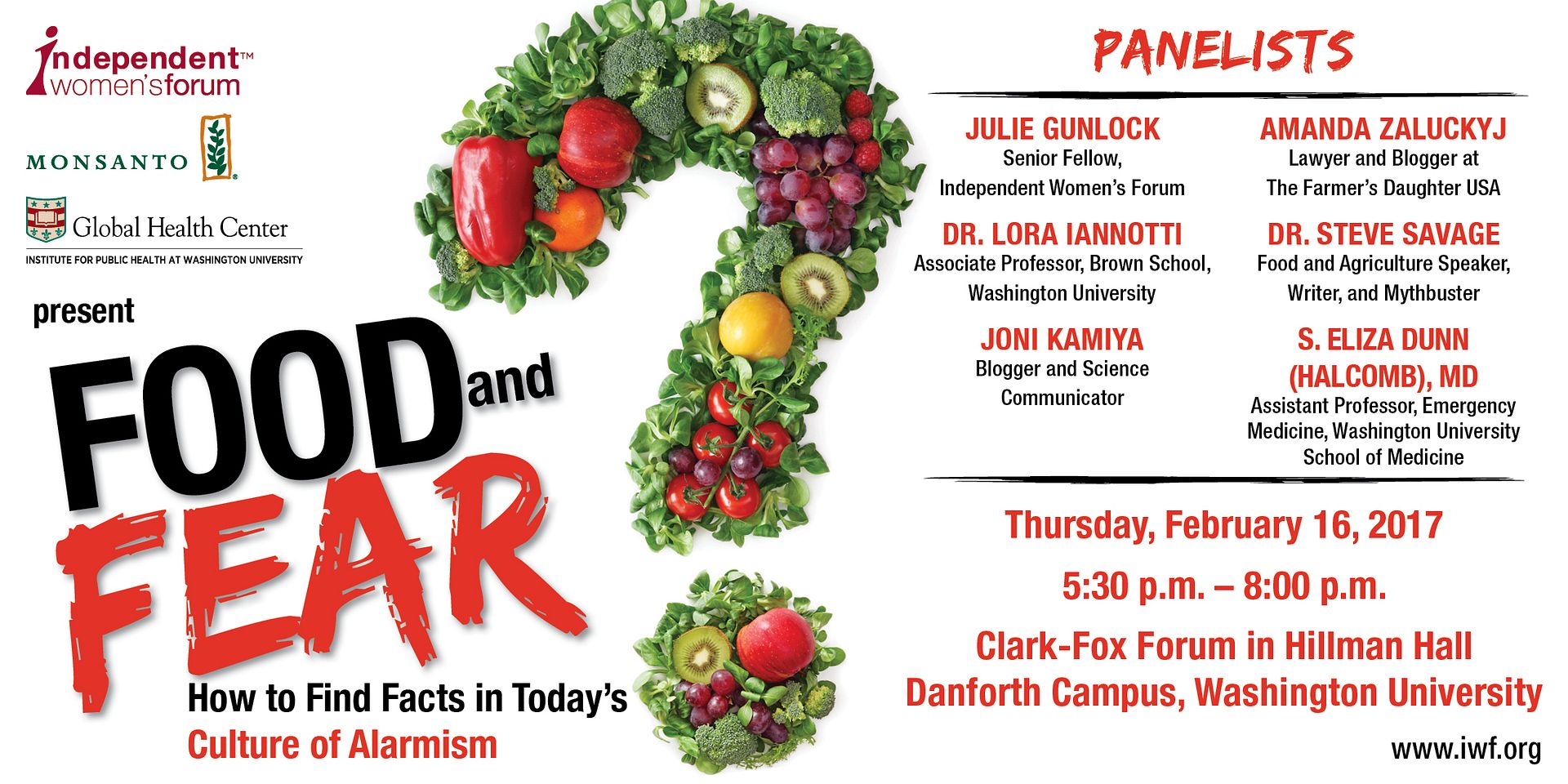 EVENT DETAILS:
ST. LOUIS, MO
Thursday | February 16, 2017
Clark-Fox Forum in Hillman Hall
Danforth Campus, Washington University
5:30pm-8:00pm (food and drink provided)
Event open to the media (Q&A session at end)
PANELISTS:
JULIE GUNLOCK | Senior Fellow, Independent Women's Forum
S. ELIZA DUNN (HALCOMB), MD | Assistant Professor, Emergency Medicine, School of Medicine, Washington University
DR. LORA IANNOTTI | Associate Professor, Brown School, Washington University
JONI KAMIYA | Blogger and Science Communicator
AMANDA ZALUCKYJ | Attorney and Blogger at The Farmer's Daughter USA
DR. STEVE SAVAGE | Food and Agriculture Speaker, Writer, and Mythbuster
####
Independent Women's Forum works to improve the lives of Americans by increasing the number of women who value free-markets and personal liberty.
MEDIA CONTACT
Victoria Coley
Vice President of Communications
[email protected]