IMMEDIATE RELEASE
September 27, 2018
CONTACT
[email protected]
EVENT ADVISORY
Foreign Policy Conference: Tyrants, Terrorists, and Threats to the 21st Century World Order
---
WEDNESDAY
October 3, 2018
2:00 PM – 7:00 PM EDT
1777 F Street Northwest
Washington, DC 20006
---
Washington, DC — On October 3, 2018, Independent Women's Forum and the Jewish Policy Center will host Tyrants, Terrorists, and Threats to the 21st Century World Order, a foreign policy conference on terrorism, ISIS and the Middle East, nuclear proliferation, the rising network of such despotisms as Russia, China, Iran and North Korea, and, on the upside, the role of women in opposing tyranny.
We are living in extraordinary times of both promise and peril, of global abundance beset by rising threats to the Free World.
The conference begins at 2:00pm ET with a keynote address from The HOnorable Sue. M Gordon, Principal Deputy Director of National Intelligence.
Confirmed speakers include:
The Honorable Sue M. Gordon, Principal Deputy Director of National Intelligence
Jane Hemenway, Retired Special Agent, Foreign Counter-Intelligence, FBI
Andrea Bottner, Bottner Strategies, LLC
Shoshana Bryen, Jewish Policy Center
Michaela Dodge, Heritage Foundation
Casey Pifer, Atlas Network
Claudia Rosett, Independent Women's Forum
Lee Smith, Hudson Institute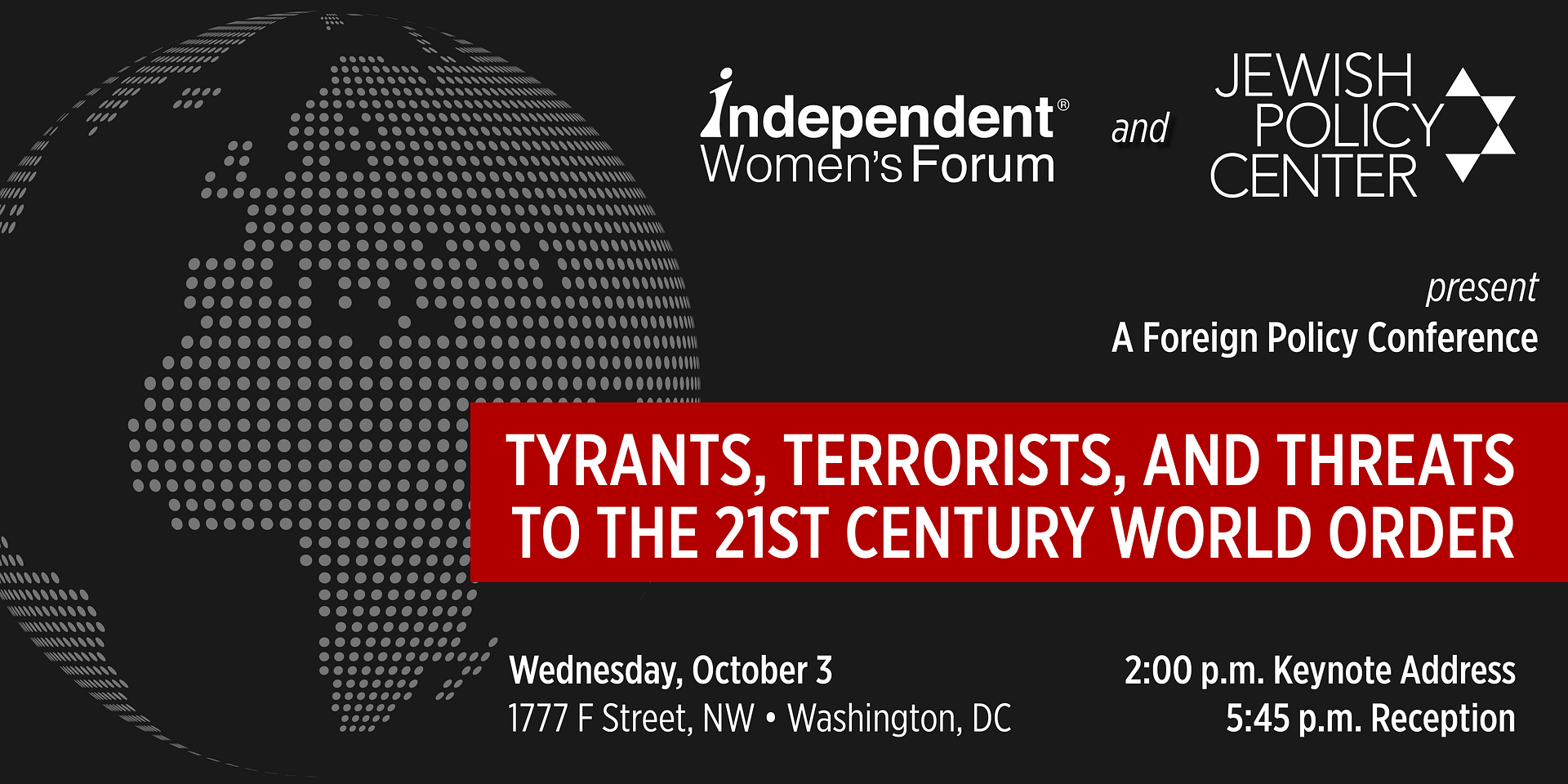 ####
Independent Women's Forum is an educational 501(c)(3) dedicated to developing and advancing policies that aren't just well-intended, but actually enhance people's freedom, choices, and opportunities
MEDIA CONTACT
Caroline Phelps
Senior Manager, Strategic Communications
Independent Women's Forum
[email protected]