I come from a big, Catholic, New Orleans family. Pretty much everything we do is based on tradition. My dad particularly lives for our Christmas traditions and says having everyone together on that day is the most important thing to him.
The most beautiful thing about my parents is their big heartsand generous natures. They have literally opened their homes to so many people — from complete strangers to family friends who needed a warm meal, a roof over their head, a place to spend the holidays, or a family to call their own.
I've learned from my parents that the definition of "family" isn't just limited to blood. While I have three biological siblings, three siblings-in-law, and many aunts, uncles, and cousins, I also have several "adopted" siblings, who have lost parents or live far away from "home."
To put things in perspective: there are usually about 17 people at our Sunday dinners. On Christmas Eve, there are usually about 25 people at dinner.
Each Christmas Eve, "the kids" meet at my parents' house early in the day. My parents usually have some sort of themed accessory for us to sport at Mass and dinner, as if anyone could possibly mistake our army of people for being anything other than together, as we take up several rows of pews at mass and half the restaurant at dinner.
We try to surprise my parents with something to make the day memorable — from limo rides to picking up part of the tab at dinner. (*We only pick up part of the tab, because that's all we can manage to get, after having to literally wrestle the check from our dad's death grip. That alone is a huge feat, as he kindly insists on treating all 25 of us to dinner.)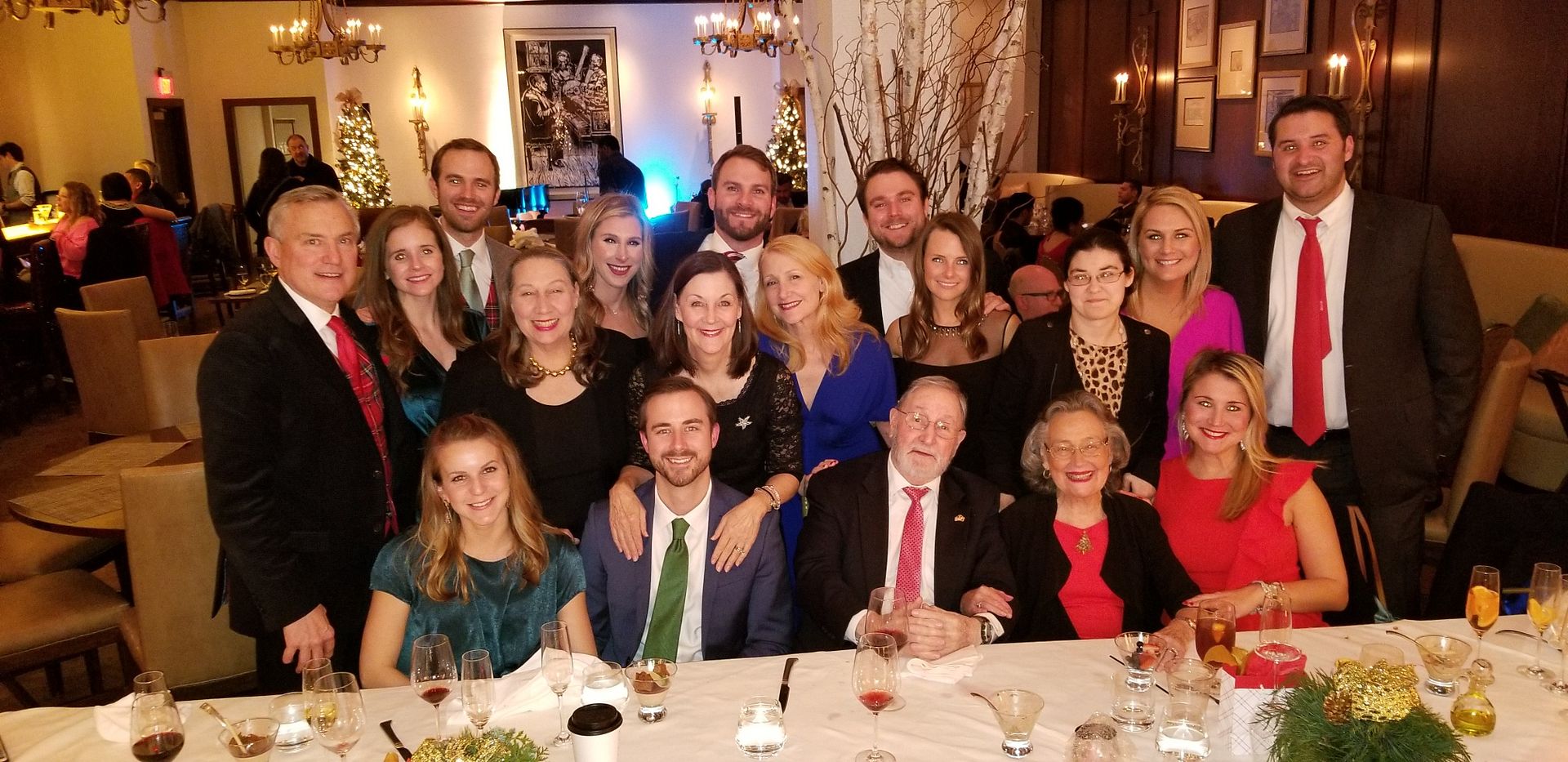 Since most of New Orleans is Catholic, we have to get to the beautiful Immaculate Conception Church 1-2 hours before the 4 pm mass starts. Trust me, you don't want to be late — there's not even enough room to stand. I've made that mistake and almost ruined Christmas for us…. (Sorry dad.)
The music is indescribable — the angelic sound echoes off the walls into the sky-high ceilings and reverberates into heaven.
After mass, we cross the street and enter the gorgeous, historic Roosevelt Hotel, which is adorned with jaw-dropping Christmas decorations. "Everyone and their mother" is there — almost literally — to check out the decorations, snap a selfie, and grab a Sazerac at (you guessed it) the historic Sazerac bar.
Fun facts: America's first cocktail and the world's first mixed drink was the Sazerac, which was concocted in New Orleans, naturally. And the Sazerac bar was recently voted the #1 hotel bar in the U.S.
After we check out the decorations and run into old friends in the hotel, we sit down for an "early" dinner, which lasts up to six hours. Once dinner is over, we spend roughly an hour saying goodbye to everyone. It's just part of the laissez-faire culture of New Orleans.
Then "us kids" go back to my parents' house to exchange some gifts and have a "slumber party" like old times. Since there are so many of us, we now do a "Secret Santa." And we stay up late laughing, catching up, and playing with the dogs.
Last year, my dad surprised us all by re-proposing to my mom, giving her a new, beautiful ring and an even more beautiful speech. There wasn't a dry eye in the room. It was the perfect ending to a wonderful day of holiday traditions and family fun.