IMMEDIATE RELEASE
February 7, 2019
EVENT: Who's Afraid of Sex Differences?
Feat. Christina Hoff Sommers, Lee Jussim, Debra Soh, Inez Stepman
---
MEDIA RSVP TO [email protected]
WEDNESDAY
February 13, 2019
3 West Club
3 West 51st Street
New York, NY
7:00 – 9:00pm ET
---
Washington, DC — On Wednesday, February 13, Independent Women's Forum (IWF) will host Who's Afraid of Sex Differences panel discussion with experts who aren't afraid to take on controversial subjects. The event takes place from 7-9pm ET at the 3 West Club in New York City.
Scholars are conducting illuminating and important research into biological differences between men and women, but increasingly find that their contributions aren't welcome in academia. This has important implications for society and for academic freedom.
Panelists Dr. Christina Hoff Sommers, resident scholar at the American Enterprise Institute, Dr. Lee Jussim, professor of social psychology at Rutgers University, Dr. Debra Soh, Canadian science columnist, political commentator, and former sex researcher, and Inez Stepman, senior policy analyst at IWF, will discuss what science says about male-female sex differences, and more importantly, why it seems like we aren't allowed to talk about it.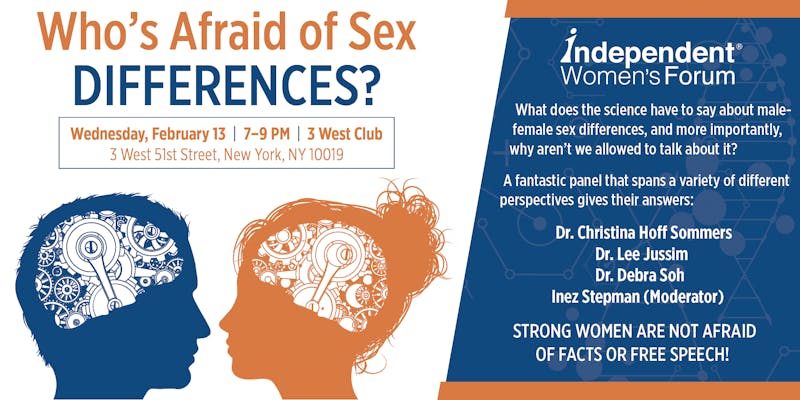 MEDIA RSVP TO [email protected]
####
www.iwf.org
Independent Women's Forum is an educational 501(c)(3) dedicated to developing and advancing policies that aren't just well-intended, but actually enhance people's freedom, choices, and opportunities.