Nothing can describe the tense, chaotic celebration that is an Iowa versus Iowa State game day. Ask any Iowan about the in-state rivalry and they are sure to hold a firm allegiance with one of the Iowa schools. The game was covered by a panel of ESPN GameDay commentators, but their shot was photobombed by Carson King holding a hilarious sign that read:
"Busch Light Supply Needs Replenished. Venmo: Carson-King-25"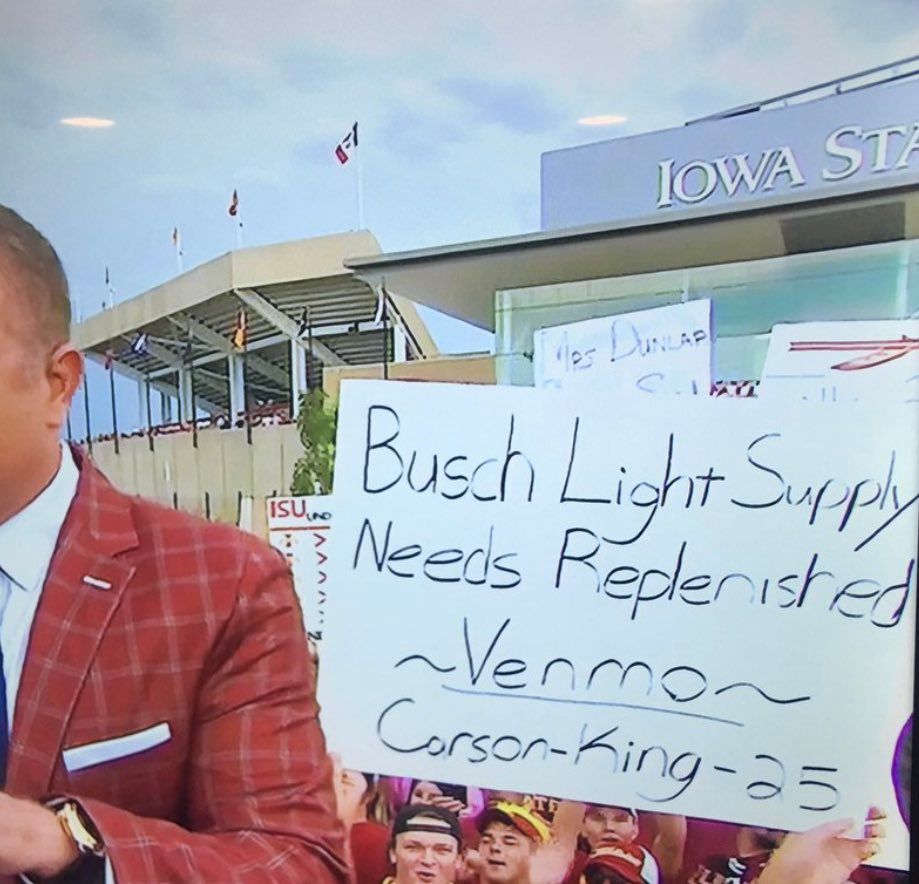 The 24-year-old Iowa State fan innocently hoped to get a few laughs and maybe a few dollars to help buy his next case of Busch Light. Instead, he received over $1 million dollars after his plea for beer went viral.
Carson decided to keep just enough for one case of beer and donated the rest to the University of Iowa Children's Hospital. Despite being an Iowa State Fan, Carson agreed that the UI Children's Hospital is a symbolic beacon of hope that is worth breaking the in-state rivalry. The Children's Hospital is located directly next to Kinnick Stadium at the University of Iowa, and was designed to give the children a birds eye view of the game from their hospital rooms.
During home games at the University of Iowa fans and players alike stop what they're doing at the end of the first quarter and wave at the children in the hospital. This is another viral sensation stemming from Iowa and has been called the "greatest tradition in college football."
Because of his outstanding charity, Busch Light awarded Carson with a years supply of beer in cans with his face on them, with the words "Iowa Legend". Once Busch Light and Carson joined forces, they launched a campaign aiming to raise $2 million for the Children's Hospital.
If only the story could end here.
In an unfortunate (and unnecessary) turn of events, Carson King was #Cancelled. Following what was called a "routine" social media search, The Des Moines Register decided to cancel Carson for tweets from 2012 where he quoted the popular comedy show Tosh.0. In "eye for an eye" fashion, readers proceeded to dig up old tweets from the journalist who condemned Carson King that were just as offensive. It seems no one is walking away from this situation unscathed.
Has cancel culture gone too far? The sad truth is that our society has been filled with so much cynicism and hate that we can't even let a person donate money to kids with cancer without finding something way to get offended about. In the fall out from the article #StandWithCarson is trending as people showed their support for the charitable Iowa State fan:
Carson King is doing something legitimately good and selfless, the Des Moines register is attacking him to bring in more clicks. Yet another example of mainstream media attacking people for their own gain. I'm glad it backfired #standwithCarson

— Gabriel Clark (@principleTbone) September 25, 2019
The Des Moines Register released a statement calling this the "toughest decision in journalism" they've had to make. People aren't buying it.
Thank you for making future people like Carson King who might want to do a good deed think twice before they do for fear of what unrelated thing some hack muckraker might dig up about them bc they aren't perfect. And people wonder why local print media is dying. #standwithCarson https://t.co/pHbzY6JkX3

— Ted (@TedBrink11) September 25, 2019
Cancel culture has become the focus of many free speech debates, yet it continues to leave a devastating path of people behind that will carry a negative connotation with their name for years to come. Carson King did not deserve to get cancelled–and I say this as an Iowa Hawkeye fan (the natural born enemy of Iowa State fans). Carson King gave us a refresher at what it means to be "Iowa-nice"; let's praise his charitable act and #StandWithCarson.