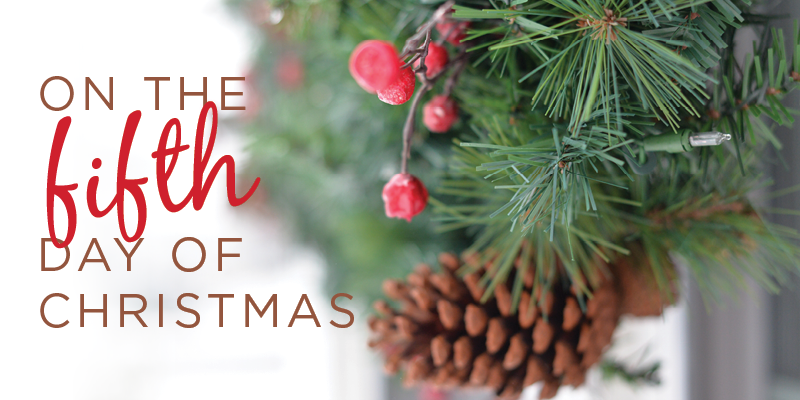 Ready to sing this Christmas?
Love it or hate it, if you are a member of my family you participate in a family sing-a-long tradition on Christmas Eve. Thanks to my mom, who says the tradition is fun, all of my aunts, uncles, cousins, significant others, and the newest generation of kids are tapped to participate in singing The Twelve Days of Christmas, the cumulative song of increasingly grand gifts given during Christmas time.
When I was younger my mom and I made large poster board cards for each verse—even drew festive illustrations that represented its corresponding gift. We still use these decades old cards today. The poster board cards are passed around to family members—several groups and some solos—to assign every person a verse to belt.
My mom, who is the star (more on that in a moment), says she particularly loves this annual tradition "because the entire family gets to participate and act silly." Some of my cousins beg for the highest number possible so they don't have to sing many rounds. Then there are others like my cousin Jacqueline and I who ALWAYS want the first verse—A partridge and a pear tree. We either love the attention or think we are amazing singers (perhaps both!). And then there is my mom Betty, known for her shining rendition of the fifth verse—Five golden rings—which is the toughest octave to hit in the entire song. Year after year mom still gets the fifth verse.
The tradition has even influenced gift giving over the years. For example, my cousin Richard bought my mom a Tweleve Days of Christmas-themed wine glass set. Perhaps a hint that we needed the family to consume some vino to help loosen up the nerves before our sing-a-long?
Cheers to my mom. I'm thankful she started this memorable Christmas tradition more than three decades ago.
Be sure to join us this year and belt out The Tweleve Days of Christmas (lyrics below).
P.S. I can't help but share this spoof Millennial version that's gone viral:

The Tweleve Days of Christmas
[Verse 1]
On the first day of Christmas my true love sent to me
A partridge in a pear tree
[Verse 2]
On the second day of Christmas my true love sent to me
Two turtle doves, and
A partridge in a pear tree
[Verse 3]
On the third day of Christmas my true love sent to me
Three french hens
Two turtle doves, and
A partridge in a pear tree
[Verse 4]
On the fourth day of Christmas my true love sent to me
Four calling birds
Three french hens
Two turtle doves, and
A partridge in a pear tree
[Verse 5]
On the fifth day of Christmas my true love sent to me
Five golden rings
Four calling birds
Three french hens
Two turtle doves, and
A partridge in a pear tree
[Verse 6]
On the sixth day of Christmas my true love sent to me
Six geese a-laying
Five golden rings
Four calling birds
Three french hens
Two turtle doves, and
A partridge in a pear tree
[Verse 7]
On the seventh day of Christmas my true love sent to me
Seven swans a-swimming
Six geese a-laying
Five golden rings
Four calling birds
Three french hens
Two turtle doves, and
A partridge in a pear tree
[Verse 8]
On the eighth day of Christmas my true love sent to me
Eight maids a-milking
Seven swans a-swimming
Six geese a-laying
Five golden rings
Four calling birds
Three french hens
Two turtle doves, and
A partridge in a pear tree
[Verse 9]
On the ninth day of Christmas my true love sent to me
Nine ladies dancing
Eight maids a-milking
Seven swans a-swimming
Six geese a-laying
Five golden rings
Four calling birds
Three french hens
Two turtle doves, and
A partridge in a pear tree
[Verse 10]
On the tenth day of Christmas my true love sent to me
Ten lords a-leaping
Nine ladies dancing
Eight maids a-milking
Seven swans a-swimming
Six geese a-laying
Five golden rings
Four calling birds
Three french hens
Two turtle doves, and
A partridge in a pear tree
[Verse 11]
On the eleventh day of Christmas my true love sent to me
Eleven pipers piping
Ten lords a-leaping
Nine ladies dancing
Eight maids a-milking
Seven swans a-swimming
Six geese a-laying
Five golden rings
Four calling birds
Three french hens
Two turtle doves, and
A partridge in a pear tree
[Verse 12]
On the twelfth day of Christmas my true love sent to me
Twelve drummers drumming
Eleven pipers piping
Ten lords a-leaping
Nine ladies dancing
Eight maids a-milking
Seven swans a-swimming
Six geese a-laying
Five golden rings
Four calling birds
Three french hens
Two turtle doves, and
A partridge in a pear tree