October 31 2017
Sharia Advocate Linda Sarsour One of Glamour Mag's "Women of the Year"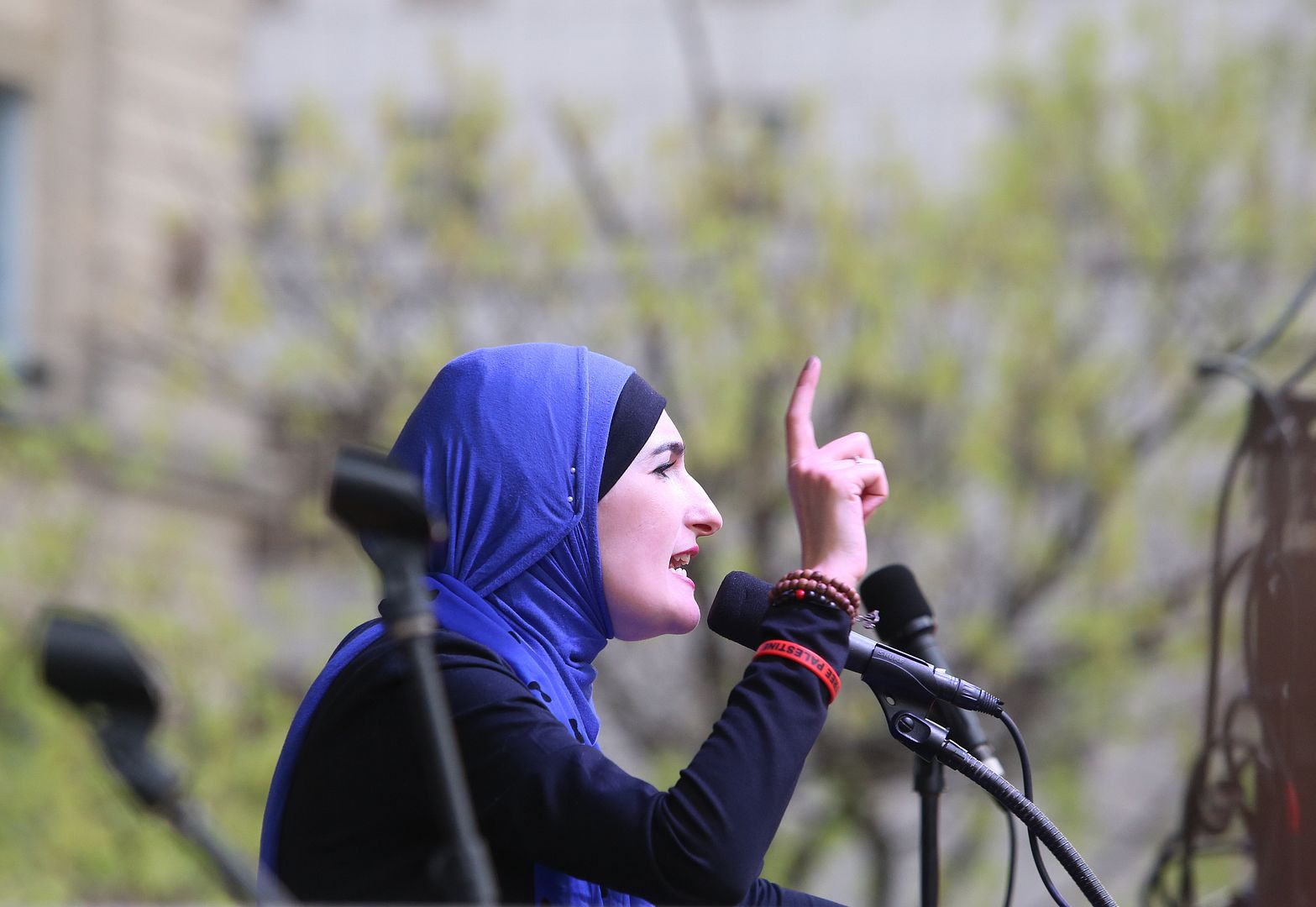 Glamour magazine yesterday announced its "Women of the Year," a list that includes Sharia Law advocate Linda Sarsour, who rose to national prominence as national co-chair of the January Women's March.
Women's March organizers Tamika D. Mallory, Bob Bland, and Carmen Perez are also Glamour Women of the Year, and as such featured on a busy cover montage of all the magazine's honorees. Among them are impeachment fan Rep. Maxine Waters, anti-Trump late night host Samantha Bee.
This is Glamour's twenty-seventh Women of the Year list and all are expected to be on hand for the annual awards night that this year will feature a summit led by Chelsea Clinton, actress and LGBT advocate Laverne Cox, and Planned Parenthood President Cecile Richards.
The magazine says it is honoring "game changers, rule breakers, and trailblzaers"
It is distressing that Glamour either has overlooked or simply isn't bothered by several stated positions of Sarsour and other Women of the Year. Women have very few rights under Sharia Law, but apparently that is okay with the editors of Glamour.
New York Times opinion editor Bari Weiss took note of hateful statements by Sarsour, Mallory, and Perez in an an August article headlined "When Progressives Embrace Hate."
Weiss pointed out that Sarsour had used the Women's March official twitter to send birthday greetings to "the revolutionary#Assata Shakur." Assata Shakur is a convicted cop killer who was known as Joanne Chesimard before she took up residence in Cuba. She is on the F.B.I.'s Most Wanted List. Sarsour has dismissed the work of Islamacist critic and feminist Ayaan Hirsi Ali in "the most cruel and crude terms."
Ms. Mallory is also an admirer of Shakur but she was an equally ardent admirer of Fidel Castro, whose death she mourned in several impassioned tweets, including this one: "R.I.P. Comandante! Your legacy lives on!" On another topic, she charmingly tweeted, "When you throw a brick in a pile of hogs, the one that hollers is the one you hit."
Ms. Perez has professed her admiration for Baba Sekou Odinga, a Black Panther convicted of trying to kill five policemen. "Love learning from and sharing space with Baba Sekou Odinga," she has tweeted. Mallory and Perez have also professed admiration for and posed with pictures with Nation of Islam leader Louis Farrakhan. That would be the Minister Farrakhan who warned Jews, "And don't forget, when it's God who puts you in the ovens, it's forever."
The Conde Nast magazine introduces this year's glam "Women of the Year" with an essay by Jezebel founder Anna Holmes (it celebrates women's rage). If you had any lingering doubt that women's magazines have followed late night TV into harsh, hard left territory, then Ms. Holmes' essay will banish these doubts.