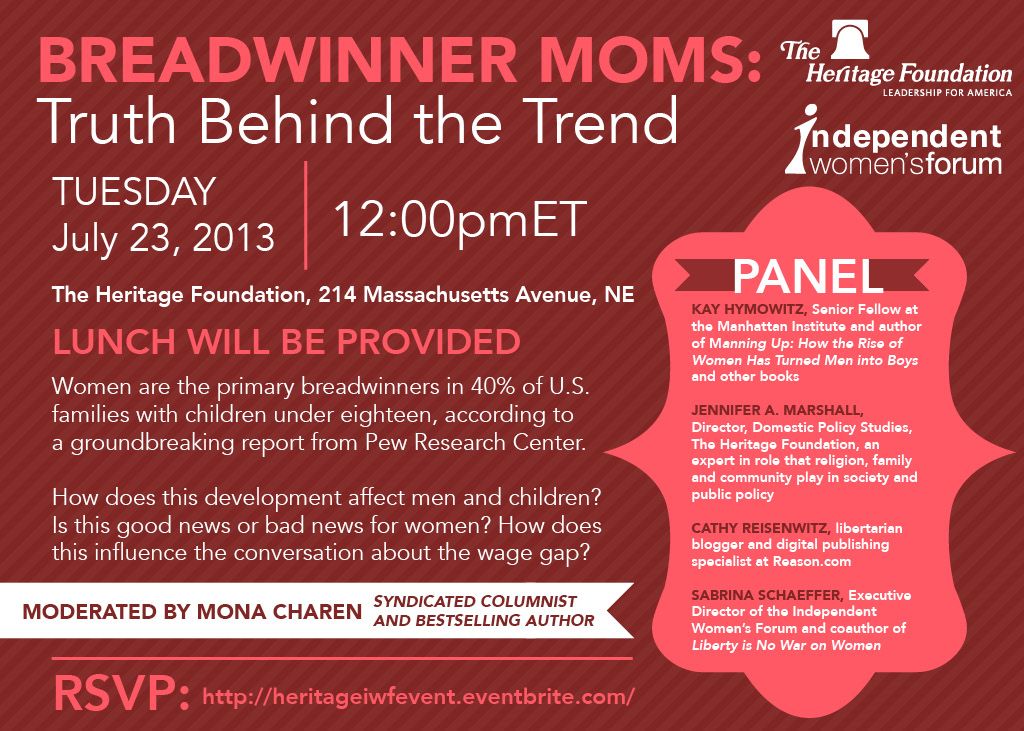 Event Details
Women are the primary support in 40% of U.S. families with children under 18, according to a groundbreaking new report from Pew Research Center.
How does this development affect men and children? Is this good news or bad news for women? How does this influence the conversation about the wage gap?
Join our award-winning panel to discuss this growing trend.
Moderator: Mona Charen, Syndicatd Columnist and Bestselling Author
Kay Hymowitz, Senior Fellow at the Manhattan Institute and author of "Manning Up: How the Rise of Women has Turned Men into Boys."
Jennifer Marshall, Director of Domestic Policy Studies at the Heritage Foundation, an expert in the role that religion, family and community play in society and public policy.
Cathy Reisenwitz, Writer for Doublethink magazine and Thoughts on Liberty. She spoke recently at the 2013 International Students for Liberty Conference on the topic of women in the liberty movement.
Sabrina Schaeffer, Executive Director of the Independent Women's Forum and co author of "Liberty is No War on Women.
We look forward to seeing you there!
**Lunch will be served during the event!