Due to unforeseen scheduling conflicts, Indepenedent Women's Forum has found it necessary to postpone Into The Virtual World: Are Women More Connected or Bowling Alone? until further notice. We apologize for any inconvenience this may cause and will let you know when the event is rescheduled.
Thank you for your interest and support for Independent Women's Forum.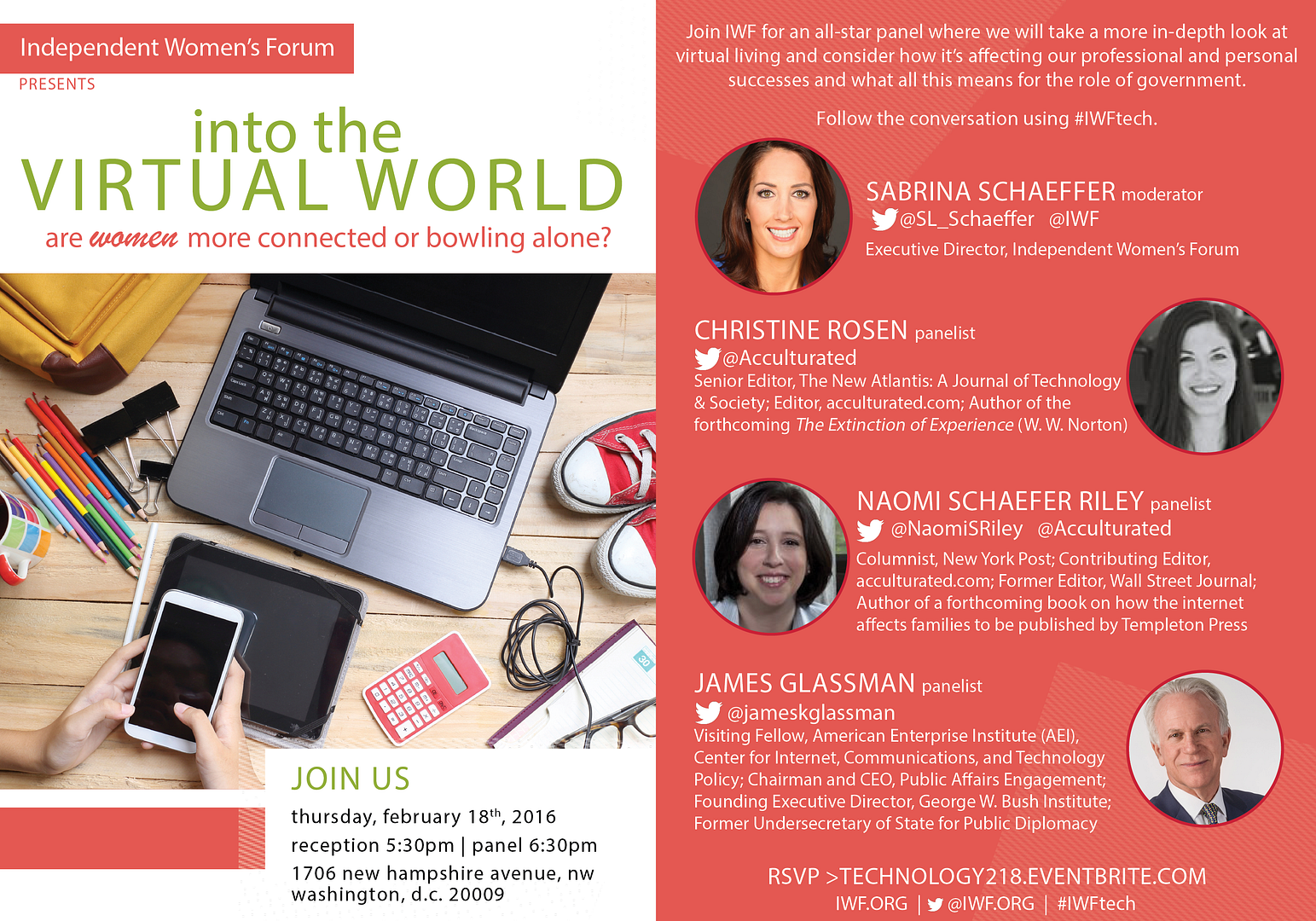 INTO THE VIRTUAL WORLD: Are Women More Connected or Bowling Alone?
We often hear that women are the primary users of social media. IWF frequently points to technology as the real reason for women's success with work-life balance today.
But is our new virtual world helping or hurting women and their families?
There's no doubt new technology is changing the way we work, think, and behave. It gives us access to more information and creates new avenues for communication and enrichment. At the same time, it raises difficult new questions about our culture, privacy, and the role of the state.
Join the Independent Women's Forum on February 18th for an all-star panel where we will take a more in-depth look at virtual living and consider how it's affecting our professional and personal successes and what all this means for the role of government.
Moderator:
Sabrina Schaeffer, Executive Director, Independent Women's Forum
Panelists:
Christine Rosen, Senior Editor, The New Atlantis: A Journal of Technology & Society; Editor, acculturated.com; Author of the forthcoming The Extinction of Experience (W. W. Norton)
Naomi Schaefer Riley, Columnist, New York Post; Contributing Editor, acculturated.com; Former Editor, Wall Street Journal; Author of a forthcoming book on how the internet affects families to be published by Templeton Press
James K. Glassman, Visiting Fellow, American Enterprise Institute (AEI), Center for Internet, Communications, and Technology Policy; Chairman and CEO, Public Affairs Engagement; Founding Executive Director, George W. Bush Institute; Former Undersecretary of State for Public Diplomacy
For questions or more information, please contact [email protected]
Media inquiries, please contact [email protected]