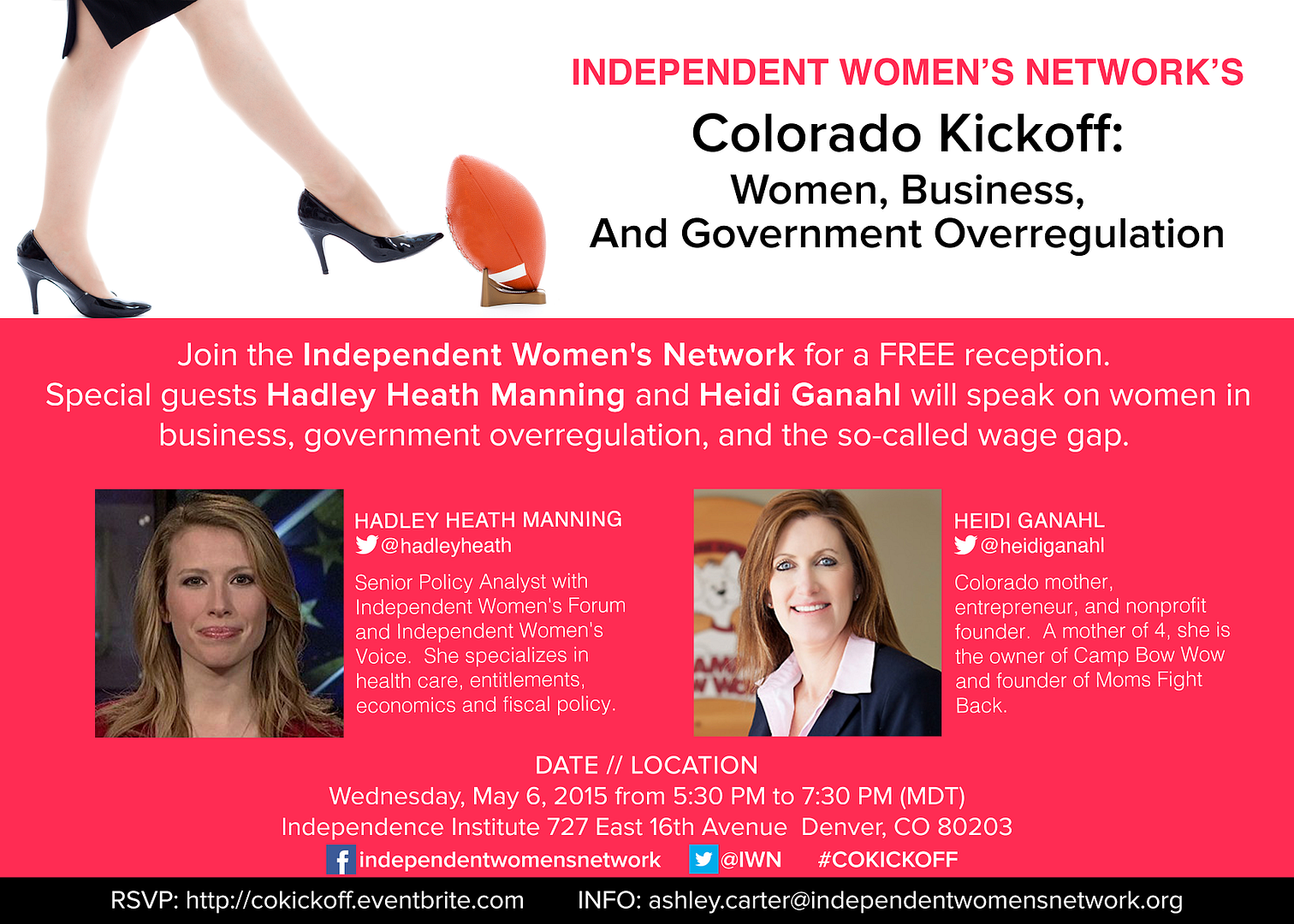 Join the Independent Women's Network for a FREE reception on May 6th! Special guests Hadley Heath Manning and Heidi Ganahl will speak on women in business, government overregulation, and the so-called wage gap.
Heidi Ganahl is a Colorado mother, entrepreneur, and nonprofit founder. A mother of 4, she is the owner of Camp Bow Wow and founder of Moms Fight Back. Heidi has triumphed over adversity with the loss of her young husband in a tragic plane crash and losing a $1 million insurance settlement to create one of the fastest growing franchises in the US and Canada. She fought government overregulation to transform a small company into an $80 million dollar business with more than 200 franchisees in 40 states and Canada. Heidi's story is one of struggle and her journey inspirational to all would-be entreprenuers.
Hadley Heath Manning is a Senior Policy Analyst with Independent Women's Forum and Independent Women's Voice. She specializes in health care, entitlements, economics and fiscal policy. Hadley appears frequently in radio and TV outlets across the country, including Fox Business' Cavuto on Business, Stossel Show, Fox News' Hannity, Your World with Neil Cavuto, and PBS's To the Contrary among others. Her work has been featured in publications including the Wall Street Journal, Forbes, POLITICO, Roll Call, Real Clear Policy, the Tampa Tribune, National Review Online, Daily Caller and Townhall.com.
RSVPS are requested. Beverages and light bites will be served.